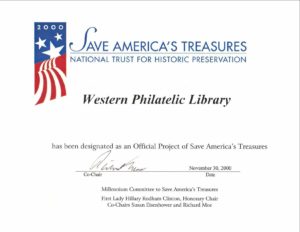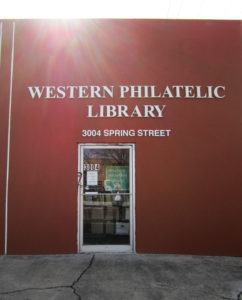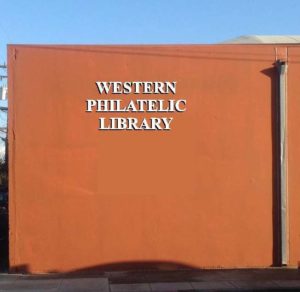 The library is the largest public philatelic collection in the Western United States and is located in Redwood City California with more than 15,700 book and monographs, 5200 journals, and 13300 tear sheets.  WPL provides philatelic literature of all countries; specialized stamps; such as transportation, pony express, maritime, airmail, revenue, postal stationary and topical.
All material is cataloged in an online database which is available on computer at the library. This includes books, catalogues, journals, pamphlets and tear sheets listed and available for research. The books, catalogues, and pamphlets are also available online as part of the American Philatelic Research Library (APRL) Union Catalog. Selecting WPL as the search library will limit the results to material at the library.
The WPL is administered by the Friends of the Western Philatelic Library as a benefit not only to the philatelic community but also the public at large.  This site provides information about the Library and the Friends who provide their time and talent to make the material available for research or pleasure.
We welcome new members who share our vision of striving to continually improve and add to the library collections. We know that you will find value here and continue to use the resources available.
The IRS has re-instated FWPL as a charitable 501(c)(3) non-profit organization retroactive to the date of revocation May 16th 2016. Donors may deduction contributions under IRC Section 170.

In addition FWPL has again begun to offer duplicate material on eBay as seller fwpl_org.  Proceeds will support the operation of the library.  Check us out, new material will be offered periodically.
Suggestions and comments are always welcome, about the library they can be e-mailed to info, or for web site improvements can be e-mailed to the webmaster.
Friends of the Western Philatelic Library Inc.  Redwood City, California USA.
Founded 1969 – APS Chapter 836
Important: Before visiting please contact us to make sure that the Library will be open. This is a volunteer organization and we regret that we cannot guarantee staff will always be available at the hours posted below. We thank you for your patience.